Fuel Sensors
Our extensive assortment of sensor solutions includes classics such as dip pipe sensors and lever arm sensors with thick-film network technology (TFN) sensors, as well as contactless sensors (MAPPS) which are therefore free of wear and tear. Depending on the requirements of the tank or vehicle manufacturer, functionality options range from robust sensors of a simple construction up to complex solutions including connections for fuel supply (feed and return line for engine injection system and auxiliary heating system) as well as ventilation of the tank, all of which are integrated in the flange geometry. Regardless of the functional principles and design, all systems are designed for a long service life and have been proving themselves in series for many years.
Tubular Sensors
Lever-Arm Sensors
Innovative solutions
Our sensor systems are optimized specifically for this area of application with its sometimes very difficult environmental conditions. We have been active in this area for over 30 years, and with sensor innovations such as the magnetic passive positioning sensor (MAPPS) have created the conditions for being able to significantly extend the service life of fuel level measurement systems – even in aggressive fuels.
For each tank geometry
With an extensive assortment of basic concepts we supply solutions for a large number of different tank geometries, flange openings (e. g., EU bayonet flange) and fuel requirements. On the basis of a modular principle we are also able to assist our customers with products in smaller quantities. In this view customer specific lever arm sensor lengths can be implemented starting as of approximately 2,000 units annually.
Thickfilm Network Technology (TFN technology)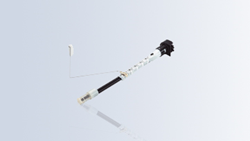 Plastic lever arm sensor 
Resistant to impacts and vibrations
Simple and cost-effective bayonet-type mounting
Integrated feed and return pipe
Save and quick electric connection
No separate tank ventilation necessary
Simple connection of external heating
Long durability
All variants have the following technical features:
Integrated fuel feed and return pipe
DIN bayonet socket for electrical connection
Additional feed pipe for auxiliary heating
Mounting of the lever-type sender in the tank by means of a bayonet flange
Integrated tank ventilation with suction and pressure relief valves
Potentiometer designed as thick-film resistor
Pressure compensation possible in case of several tanks (twin-tank Equipment)
Magnetic Passive Position Sensor (MAPPS technology)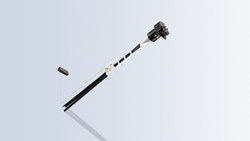 Plastic lever arm sensor
Contactless measurements for aggressive fuels
While conventional sensor technologies in fuel and diesel achieve the required service life requirements, these values cannot automatically be transferred for use in new fuels, such as rapeseed oil methyl ester (RME, biodiesel). In the case of conventional sensors in RME thick film technology, aggressive components can accelerate the wear and tear of contact surfaces, even for high-quality contact materials. Contactless measurements represent a more secure method of achieving long-term fuel level measurements in these different basic conditions.
Our MAPPS meets this requirement. On the basis of its functional principles, the sensor can achieve over ten million cycles. The actual sensor element of this paten ted sensor is hermetically sealed and hence does not come into contact with the fuel. Measurements are carried out via a lever arm sensor, which moves a small magnet in a bow-like manner over the outside of the sensor housing. The magnetic force pulls individual metal pads (of a total 52) on a contact board on the in side of the sensor, producing a characteristic electrical resistance which is the measurement value.
The hermetically sealed MAPPS element at a length of only four centimetres.
MAPPS functionality: The magnet on the lever arm sensor pulls down flexible contact pads on a contact board, producing a characteristically electronic resistance Signal.
Adjustable Fuel Lever Arm Sender & Adjustable Fuel Lever Arm Sender with flow/return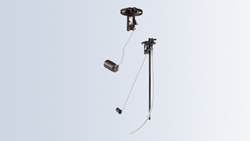 A new generation of lever-type senders
Our new, specially developed lever-type fuel senders now offer our customers a robust and particularly flexible way of ensuring reliable fuel measurement for various tank depths.
The system is based on a lever arm, which captures the current fuel level. The length of the lever arm can be adapted to specific requirements and shortened. This makes it possible to equip various tank depths (145 mm to 400 mm) using just one system – an advantage that is particularly attractive with shallow tanks.
Two versions of the adjustable fuel lever arm sender
are available:
ALAS 1:
with or without warning contact,
with different resistance outputs, without feed and return.
ALAS 2:  
with feed and return including warning contact,
with different resistance outputs.
The version with integrated warning contact can be hooked up to an external reserve display that indicates when a defined minimum level has been reached, for example. The lever arm is flexibly supported to compensate for non-level conditions and movement. It has been successfully deployed in the marine sector for many years. This proven, robustly designed tech­no­logy features a high level of display accuracy and can now be used in many other scenarios, ranging from small engines to agricultural machinery and large stationary machines.
Versatile deployment scenarios:
Small engines and construction machinery (mini-excavators, dumpers, compressors, etc.)
Agricultural machinery
Marine applications (sports and leisure boats, jet skis, etc.)
Two-wheeled machines (motorcycles, scooters, etc.)
Micro cars, quad bikes
Stationary machines (generators, compressors, etc.)
Tubular Sensors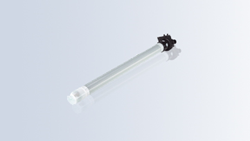 Different tank depths and installation configurations necessitate flexible components for measuring fuel levels. The broad VDO range includes sensors with an analogue output signal, rugged sensors designed to withstand mechanical stress, and switches for more straightforward applications. We also supply sensor systems with connectors for the fuel supply to the engine and heater, including tank ventilation.
Plastic Tubular-Type Sender
Tubular Fuel Sensor with Reed Contact Technology
Bayonet connector for sheet metal 1,5 to 2,5mm
Electrical connection with 2 contacts (sealed IP67)
Mounting hole 50mm
Functionality: Reed contact
Adjustable resistance range (for asymmetric tank shapes)
With flow and return and connection for additional vehicle heater
No warning contact
3 lengths available (455mm, 544mm, 672mm)
Metal Tubular-Type Sender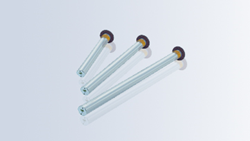 Flange hole circle dia. 54 mm
Today there are 60 different lengths of 150mm to 810mm available with various capability of connecting.   
Resistance output ~ 3 ohm (full) to ~ 90 ohm (empty)
Compatibility to VDO-gauges (adjustable 60-90 ohm),
Electrical connection: Threaded stud M4 respectively spade connector 6,3 x 0,8mm (depending on the variant fixed or enclosed)
Flange hole circle dia. 80 mm (Rugged)
Rugged design of the metal tubular-type sensor for use in harsh environments.
Resistance output ~ 3 ohm (full) to ~ 90 ohm (empty)
Compatibility to VDO-gauges (adjustable 60-90 ohm, empty)
Electrical connection: Threaded stud M4 and/or spade connector 6,3 x 0,8mm