TPMS Sensors, Service Kits and Wheel Bands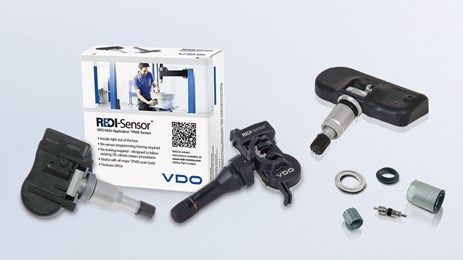 Our OE TPMS Replacement Parts Program includes everything technicians need to properly service TPMS-equipped vehicles. In addition to our OE-specific TPMS replacement sensors and TPMS sensor service parts, we offer VDO REDI-Sensor™ – the true multi-application TPMS sensor.
For important information regarding the 'TG1D' rubber snap-in valve sensor, click here:
VDO REDI-Sensor™ Multi-Application TPMS Sensors:
Extensive domestic, Asian, and European vehicle coverage for North America
covered with just 4 sensors!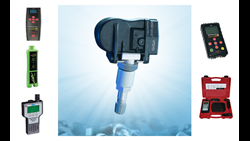 REDI-Sensor makes TPMS service faster, easier and more profitable.
TPMS service has grown more and more complex, with competing sensor standards, multiple scan and trigger tools, expensive equipment and software updates. Now, the VDO REDI-Sensor brings simplicity, ease of installation and better profit potential to TPMS service. REDI-Sensor is a technological breakthrough based on the concept of having one TPMS sensor preprogrammed to work with multiple makes and models.
Works with all major TPMS scan tools.
Look no further – REDI-Sensor is the TPMS service solution that the aftermarket has been waiting for! It's simple. Take REDI-Sensor out of the box, install it, and follow the OE vehicle relearn procedure – that's it! Unlike competitive sensors, there is never a need to 'clone' or to load vehicle software / protocols to a blank 'universal' sensor. These steps take specialized programming tools, which add time, cost and complexity.
Ready to install right out of the box.
REDI-Sensor requires no special sensor programming and relearns to the vehicle just like an OE sensor. While competitive multi-application and universal programmable sensors require the added cost of specialized sensor programming tools, software, and labor to program or clone a blank sensor, REDI-Sensor comes ready to go onto the vehicle, right out of the box.
Faster hunt mode.
REDI-Sensor saves valuable time during the vehicle relearn process, when using TPMS scan tools that incorporate a hunt mode. REDI-Sensor uses an 'intelligent design' to wake faster and deliver positive results sooner. This helps prevent the vehicle relearn process from timing out, which eliminates the need to redo the procedure.
Enhanced tire / wheel components.
The REDI-Sensor pivoting valve stem angle, combined with technically superior valve stem hardware / sealing components, maximizes wheel compatibility.
Less inventory for parts providers.
VDO REDI-Sensor replaces a host of OE sensors, including banded, snap-in and clamp-in types from Beru, Continental, Lear, Pacific, Schrader, Siemens VDO and TRW. With REDI-Sensor, parts stores can substantially reduce the number of sensor SKUs required to provide full TPMS coverage and eliminate costly service delays. Parts stores can also deliver REDI-Sensor without worrying whether their customers have the TPMS scan tools necessary to work with it, because if they have the tools and know-how to work with OE sensors, they're ready for REDI-Sensor.
Eliminates lost service opportunities.
Service shops only need to keep a small supply of REDI-Sensors on hand to be ready to service practically any vehicle that comes in. No waiting for a part delivery and no lost sales to drivers that can't leave their vehicle.
Broad and deep TPMS application coverage.
VDO REDI-Sensor provides multi-application coverage for a broad range of cars, vans, SUVs, crossovers and light trucks from 2002 – 2014. Expanded Audi, GM truck (PWM), Mercedes, Volkswagen, Volvo, Subaru and even more Asian vehicle coverage available now!
Only 4 REDI-Sensor sensor assemblies provide extensive coverage for domestic, Asian and European cars, trucks, SUVs, crossovers and vans, replacing over 200 OE sensors … and counting! The hundreds of new applications covered by REDI-Sensor have been added to the already broad and deep coverage of the VDO OE TPMS Replacement Parts Program.
Continually expanding coverage - With VDO REDI-Sensor, we are researching and validating new vehicle applications daily – ensuring that our REDI-Sensor coverage continues to grow, and our customers are ready for whatever vehicle enters the bay!
Reliable, long-standing OE partner.
Continental is a market leader and pioneer in the design and manufacturing of OE TPM Systems, sensors, and tires. Our heritage of trust and innovation was not built overnight. For over a century, Continental has been recognized as a committed partner in the automotive industry.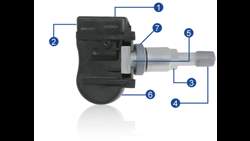 OE engineering for the aftermarket:
VDO multi-application sensor technology easily syncs with a variety of vehicles
Ready out of the box! Pre-programmed and designed to follow OE vehicle relearn procedures
Valve core, stem and hex nut treated against corrosion
Valve cap seal minimizes air loss
Pivoting valve stem makes installation easier and accommodates a wide range of wheel rim profiles
Robust waterproof design resists tire air moisture
Technically superior valve sealing design
REDI-Sensor service parts.
VDO REDI-Sensor replacement parts and service kits are available and include valve core, valve nut, seal, seal washer, and valve cap. Replacements are also available for the sensor's durable metal valve stem, which is reusable.
To learn more, contact:
Contact Sales Department
Online Application Guide
VDO OE-Specific TPMS Replacement Parts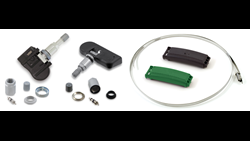 The VDO OE TPMS Replacement Parts Program includes everything technicians need to properly service catalogued TPMS-equipped vehicles with OE specific replacement parts – from complete sensor assemblies and stainless steel wheel bands for valveless sensors, to service kits that include valve core, valve nut, seal, seal washer, valve cap and valve stem. OE-engineered and validated.
VDO TPMS replacement parts are OE-engineered and validated to deliver OE fit, function and reliability. They are made in ISO-certified facilities to the same quality standards as the parts supplied to automakers worldwide.
Broad OE coverage for Domestic, European and Asian vehicles.
The OE specific replacement parts line consists of valve-type sensors, banded sensors, wheel bands and service kits for numerous domestic, European, and Asian applications from 2004 & up.
To learn more, contact:
Contact Sales Department
Online Application Guide
REDI-Sensor - Live Demonstration