VDO Racing Fuel Injectors
VDO Deka Racing Fuel Injectors feed the need for speed with OE reliability and flow of up to 220 lbs/hr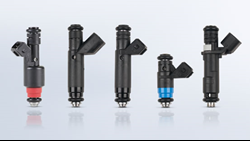 VDO offers some of the fastest reacting injectors available, built to the same stringent standards for quality and performance as the state-of-the-art injectors we supply to carmakers around the globe. Pros choose VDO injectors for their accurate flow rates, robust components and unmatched reliability under demanding race conditions.
Now we've upped the flow rate for even greater performance. Our latest Deka Racing Fuel Injector (Part #FI114212) delivers a precision pencil spray at an average flow rate of 220 lbs/hr and offers standard plug-and-play, o-ring to o-ring length.
VDO Deka Injectors give you choices for every application:
Coverage for Gasoline, E85 and Alcohol
High and low impedance
USCAR and Standard connections
Pencil and cone spray
36 lbs/hr (374cc/min) to 220 lbs/hr (2,286cc/min)
Short, standard and long configurations
Download the spec sheets for all VDO Racing Fuel Injectors from the Downloads section at right.
To learn more about our VDO Performance Instruments and Racing Fuel Injectors, contact:
Contact Sales Department
View our online catalog
Online Application Guide
Download VDO Racing Fuel Injector Product Sheets
FI11420 DEKA IV Short Std Tip Slope Offset WorkSheet
FI11420 40 lb/hr IV Short Minitimer
FI114191 61 lb/hr Deka IV Long USCar
FI114191 61 lb/hr Deka IV Long USCar Slope Offset Worksheet
FI114212 220 lb/hr Deka IV Long Minitimer
FI114510 53 lb/hr Deka IV Standard USCar
FI114700 80 lb/hr Deka V Short Minitimer Slope Offset Worksheet
FI114800 82 lb/hr Deka IX Short
FI114800 82 lb/hr Deka IX Short Slope Offset Worksheet
FI114961 61 lb/hr Deka IV Long Minitimer
FI114961 61 lb/hr Deka IV Long Minitimer Slope Offset Worksheet
FI114962 61 lb/hr Deka IV Short
FI114962 61 lb/hr Deka IV Short Slope Offset Worksheet
FI114991 80 lb/hr Deka IV Long USCar
FI114991 80 lb/hr Deka IV Long USCar Slope Offset Worksheet