Continental TG1D Rubber Snap-in Valve TPMS Sensor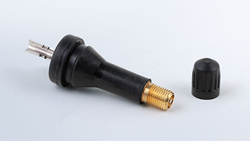 Thank you for your interest in the revolutionary Continental 'TG1D' rubber snap-in valve sensor! This sensor is part of the TPMS family, which includes OE sensors and VDO REDI-Sensor sensors.
Listed below are downloadable reference documents that will help optimize your experience with this sensor generation, covering all aspects of mechanical installation, mounting, dismounting and service.
Continental 'TG1D' Rubber Snap-in Valve Sensor downloads:
TG1D installation instructions & warranty cards (includes REDI-Sensor)
TG1D mounting to rim detail (includes REDI-Sensor)
TG1D tire mounting and dismounting w/manual tire changer (includes REDI-Sensor)
TG1D important installer / customer information (specific to REDI-Sensor)
TG1D Installer Flyer
Continental 'TG1D' Rubber Snap-in Valve Sensor videos:
View our instructional videos
How to: Tire Replacement with Rubber Snap-in 'TG1D' Sensor
How to: Rubber Snap-in Valve 'TG1D' Sensor Replacement
For vehicle relearn procedures and to find other vehicle-specific application information, use our online catalog.
Quality and Expertise
With an automotive heritage spanning from the 19th century, Continental remains as your committed partner for automotive solutions. Continental's in-house development and manufacturing expertise includes complete Tire Pressure Monitoring Systems, replacement parts and passenger and commercial vehicle tires. All VDO TPMS replacement parts are made in ISO-certified facilities to the same quality standards as the OE parts supplied to automakers worldwide.