Instruments and Accessories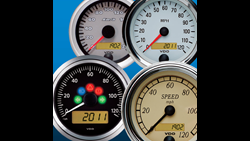 Since 1920, we've been focused on providing our customers with the best possible instrumentation. We continue to work to deliver the functionality, durability and high quality finish that have earned our products a best-in-class reputation, worldwide.
Our newest series, Viewline, offers gauge faces in Ivory, Onyx or Sterling and six different bezel choices in white, black or chrome. With integrated turn signals and warning lights, LED illumination and multifunction LCD displays, Viewline delivers the advanced technology you've come to expect from VDO. And, like every VDO gauge, Viewline is built with our own, patented components to ensure rock solid reliability.
No matter which series you choose, you're guaranteed sharp graphics and strong, even lighting, along with the attention to detail and high quality finish that have built the VDO tradition of excellence.